Get digital access to IAC's publications in one location! Our publications hub offers a one-stop-shop for your educational needs.
County Roles & Responsibilities Manual
The County Roles & Responsibilities manual is meant to serve as a quick reference guide for county officials. This manual clarifies the positions and duties of each county elected official with coordinating statutory and state constitution references.
2023 Legislative Review
This publication provides an in-depth look into the 2023 Legislative Session.
2023 Directory of Idaho County Elected Officials
Published annually, the directory is a valuable tool for anyone dealing with or wanting to contact county officials in Idaho.
IAC Salary Survey
Published annually, the IAC Salary Survey is a downloadable spreadsheet for counties to use to compare salaries across similar counties.
Uniform Budgeting &
Accounting Manual
The IAC Uniform Accounting and Budgeting Manual is intended to provide assistance and uniformity in setting the county budget.
Campaign Finance Resources
Visit the Secretary of State's website for guides and help on campaign finance.
IAC Records Retention Manual
This manual is a guideline intended to assist county officials in the management, retention and disposition of county records in accordance with Idaho law.
Records Retention Schedule
A county records retention schedule in an easy to use excel format for county officials.
Introduction to IAC Membership
This publication serves as an introduction to the Idaho Association of Counties. It provides a basic overview of IAC and the benefits you receive as a member of the association.
The County Connection
IAC Produces The County Connection, an e-newsletter, with all of the latest news from around the state. Those signed up for The County Connection will also receive weekly legislative bulletins throughout the legislative session.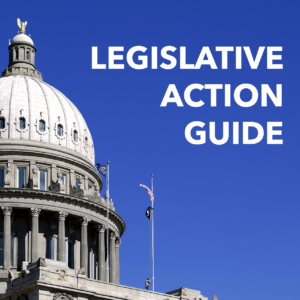 Legislative Action Guide
This guide will help you navigate the legislative maze to create a greater impact on the decisions and
voting record of your representatives and senators.
IAC Annual Report
Published annually, the IAC's Annual Report provides an overview of the previous year's finances, operations achievements, and advocacy efforts.
County Focus
IAC's County Focus is a printed quarterly magazine published by IAC and distributed to every county elected official in Idaho.